Rethinking psychiatry with OMICS science in the age of personalized P5 medicine: ready for psychiatome?
Philosophy, Ethics, and Humanities in Medicine
2013
8:4
Received: 2 May 2012
Accepted: 20 June 2013
Published: 12 July 2013
Abstract
The Diagnostic and Statistical Manual of Mental Disorders (DSM) is universally acknowledged as the prominent reference textbook for the diagnosis and assessment of psychiatric diseases. However, since the publication of its first version in 1952, controversies have been raised concerning its reliability and validity and the need for other novel clinical tools has emerged. Currently the DSM is in its fourth edition and a new fifth edition is expected for release in 2013, in an intense intellectual debate and in a call for new proposals.
Since 1952, psychiatry has undergone many changes and is emerging as unique field in the medical area in which a novel approach is being demanded for properly treating patients: not the classical "one-size-fits-all" approach, but a more targeted and tailored diagnosis and therapeutics, taking into account the complex interactions among genes and their products, environment, culture and the psychological apparatus of the subject.
OMICS sciences, being based on high-throughput technologies, are systems biology related fields (like genomics, proteomics, transcriptomics and so on). In the frame of the P5 medicine (personalized, participatory, predictive, preventive, psycho-cognitive), they could establish links between psychiatric diseases, which are disorders with a final common symptomatology with vastly heterogeneous biological, environmental and sociological underpinnings, and by understanding the psychiatric diseases beyond their classic symptomatic or syndromal definitions using OMICS research, one can have a broader picture and unprecedented links and reclassification of psychiatric nosology. Importantly, by understanding the basis of heterogeneity in diseases through OMICS research, one could also personalize treatment of psychiatric illnesses.
In this manuscript, we discuss a gap in the current psychiatric research, namely the missing logical link among OMICS, personalized medicine and reclassification of diseases. Moreover, we explore the importance of incorporating OMICS-based quantitative dimensional criteria, besides the classical qualitative and categorical approach.
Keywords
Biological psychiatrySystems biologyNetwork medicineBioinformaticsNew psychiatryPersonalized medicineDSM-VOMICS
Italian abstract
Please see Additional file 1 for the translation of the abstract into Italian.
Introduction
Traditionally, psychiatric diseases have been considered as a cluster of symptoms (syndromes) and psychopathology has been the gold standard to make diagnosis. However psychiatric diseases are complex, multifaceted and multifactorial pathologies, characterized by high heterogeneity and variance and therefore classical methods have proven to be too simple or not completely adequate to capture this complexity [1].
The categorical approach, in fact, suffers from some drawback, like circular reasoning and ambiguity [2], in considering diseases such as static categories and discrete ontologies, separate one from the others. Moreover, it is very puzzling where to set the boundary between the "normal" (health status) and the "abnormal" (the disease) and this has not only academic and nosological issues, but above all social and political concerns [2].
Another disadvantage of using the categorical approach alone is the nosological overlap: under the same clinical umbrella, different diseases with different prognosis can co-exist. Categorical approach, being qualitative, should be complemented with a more fine-grained diagnostic tool. On the other hand, molecular classification can really help and improve the classical nosological taxonomy and thus ameliorate the outcome of patient management and care.
This aspect of integrated psychological and biological assessment, that is to say both quantitative and qualitative, categorical and dimensional, is to be stressed within the frame of personalized medicine (P5) and targeted therapeutics, which recently emerged as promising and exciting trends. P5 medicine (i.e., predictive, preventive, personalized, participatory and psycho-cognitive) [3–5] entails the addition of the psycho-cognitive domain as a conceptual evolution of P4 medicine, introduced by the molecular oncologist Leroy Hood [6]. P5 medicine, as advocated by Gorini, Pravettoni and Ozdemir, has abandoned the model of paternalism that characterized the 20th century physician-patient interaction. Instead P5 is participatory and makes use of models and equations to predict patient's future health status in order to adopt the best strategy available (being predictive); is preventive in being proactive and not merely reactive; and is psycho-cognitive in that it adopts an integrated model in which psychological health is seen as a fundamental aspect of personal well-being. Psychology plays different roles in medicine: from the compliance and adherence to treatment, to the access of the treatment itself (traditional versus alternative or complementary) and ultimately to the therapeutic alliance of the broad meaning. The concept of disease is thus shifting from an atheoretical, context-free, "Platonic" model, to an approach that instead is more focused on patient's characteristics and needs [5].
While P5 medicine is biology-driven (personalized, predictive, preventive), it is also psychologically and ethically engaged (psychocognive, participatory). Therefore, it is really patient-centered.
Thus, psychiatry is emerging as something of a unique medical field in which a novel approach is demanded and needed for properly treating patients through a more targeted and tailored diagnosis and therapy [
1
–
14
], taking into account the complex interactions among genes and their products, environment, and culture (as shown in Figure
1
).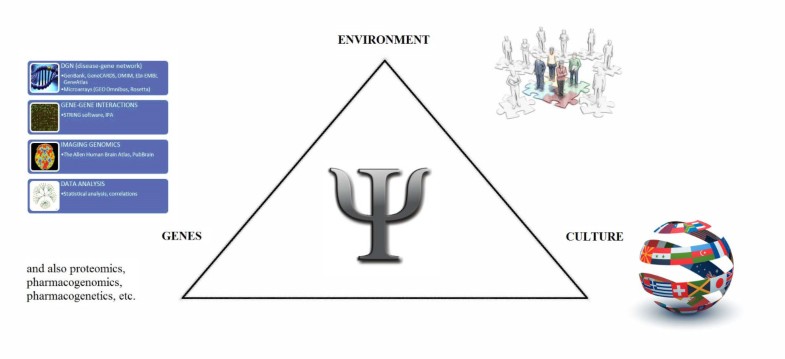 For this reason, both molecular (studied through novel biotechnologies such as gene microarrays and/or protein arrays) and psychodynamic aspects must be considered in order to fulfill the promises and true potential of a personalized psychiatry [15, 16].
Moreover, since its very beginning, psychiatry has always had societal, ethical and political implications. The negative stereotypes, social stigma, and host of discriminating policies and discredit have hindered the process of psychiatric rehabilitation. P5 medicine, being multi-scalar and multi-dimensional, include the patient as an actor in the therapeutic process and incorporates "open knowledge production systems" in a truly holistic approach, may well capture the original concept of the individual person to acknowledge the dignity of the patient in the formulation and application of acts of care [17].
Discussion
In this light, we believe that there is urgent need for a more comprehensive personalized psychiatric medicine [37]. Moving from the well-known epidemiological triangle (Figure 1), we have postulated the necessity of considering psychiatric disease from multiple points of view, given that psychiatric disorders are the result of complex gene-environment-culture interactions and we have over-viewed some tools doctors can exploit.
Psychiatric diseases tend to be interrelated (Figures 2 and 3), and exert distinct molecular signatures, and behavioral markers [38].
Molecular and genomic algorithms [39–41], nanobiotechnologies [42–45], OMICS-derived data and clinical tests and questionnaires [46] can all be useful to unravel the ambiguities of psychiatric pathogenesis if – and only if - combined and integrated.
Classical qualitative approaches have limitations on both theoretical and pragmatic grounds. Considering a more dimensional methodology, could overcome many of these limitations and thereby be instrumental to improving psychiatric diagnoses and treatments. OMICS sciences, based on high-throughput technologies, are systems biology related fields, which in a framework of P5 medicine could help to establish critical links between psychiatric diseases, (as disorders with a final common symptomatology with vastly heterogeneous biological, environmental and sociological underpinnings), and could thereby afford an understanding of psychiatric disease beyond classic symptomatic or syndromal definitions, perhaps leading to better interpretation and use of psychiatric nosology. Perhaps most importantly, by fostering such understanding through OMICS research, could also enable a meaningfully personalization of psychiatric care.
Conclusion
In this paper, we offer but an early and limited view to the potential benefits of OMIC-science in, and for psychiatry. Further studies must be undertaken to better characterize the relationships between genes, culture, and environments, but we hold that a P5-based psychiatry can uphold these tasks.
We have addressed what we believe to be a gap in current psychiatric research and practice, namely, the missing link between OMICS, reclassification of psychiatric disorder and personalized medicine. In posing the importance of incorporating OMICS-based quantitative dimensional criteria, (supplemental to the classical qualitative and categorical approaches), we assert that steps toward a new psychiatry should include:
1)

incorporating OMICS-based data to diagnostic criteria, taking biological and OMICS-derived markers not as external validators, but as intrinsic components of assessment;

2)

shift emphasis from reactive, post-hoc assessments, to more quantitative diagnostic and prognostically predictive approaches;

3)

provide bio-psychosocial (and culture-spiritual) personalized diagnoses and treatments.
Perhaps the "psychiatome" will provide an adequate translational framework for both psychiatric research and practice, being holistic and broad, rather than narrow and simplistic, even though this promising paradigm at present is still at an early stage of its development and implementation.
Authors' Affiliations
(1)
Department of Health Sciences (DISSAL),School of Public Health, University of Genoa, Genoa, Italy
(2)
DINOGMI, Department of Neuroscience, Rehabilitation, Ophthalmology, Genetics, Maternal and Child Health, Section of Psychiatry, University of Genoa, Genoa, Italy
Copyright
© Bragazzi; licensee BioMed Central Ltd. 2013
This article is published under license to BioMed Central Ltd. This is an Open Access article distributed under the terms of the Creative Commons Attribution License (http://creativecommons.org/licenses/by/2.0), which permits unrestricted use, distribution, and reproduction in any medium, provided the original work is properly cited.